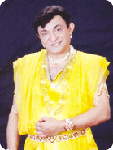 Nrityanjali's Founder - Managing Director Dr. Tushar Guha's passion as an artiste took shape early when he started training in performing and fine arts since he was two and a half years old. He has trained in the basics of Indian Classical Dances of Kathakali, Bharatanatyam, Manipuri, Kathak at Bharatiya Nritya Kala Mandir at Kolkata while simultaneously pursuing dramatics and music under Guru Smt. Anima Roy. Being conferred the Best Child Actor Award by Mahabodhi Society was only an indication of the creativity which was to flower in abundance.

Tusharji's natural talent and potential made him emerge as a complete artiste-dancer, singer, choreographer, poet, lyricist, music composer, writer, playwright, director and actor. Pursuing Kathak and conducting indepth research on folk dances of rural India for 30 years, Tusharji successfully communicates the wealth of Indian folk dances of multiple states to the urban audience through his dance performances. The dances represent various states of India - Kerala, Tamil Nadu, Maharashtra, West Bengal, Goa, Assam, Mizoram, to mention a few.
At the age of 15, he started Nrityanjali - the institute of music, dance, dramatics and personality developmentwhich has grown to be the premier institute of the country in performing arts and personality development. Nrityanjali artistes under his able choreography and direction have performed all over India for prestigious events and organizations like Kala Ghoda Festival, IIT International Conferences, INHS Asvini, BHEL, International Fleet Review and Doordarshan. Tusharji's compositions of dance dramas right from writing the script, composing the music and choreography, are exemplary in their content while showcasing his multiple features as a complete artiste. The compositions are extremely creative and popular, some of them having completed 100 shows. Kuhakini, Kalomegh, Buddham Sharanam Gacchami, Dulhan, Football, Kalapana Lok, Raag Raagini and Sagar have received critical acclaim for their unique features. His recent production is a 90 minutes dance drama SRI CHAITANYA MAHAPRABHU. The dance drama is scripted, choreographed by Dr. Tushar Guha. He also plays the lead for the same.

Having performed in more than 2500 shows as a dancer, actor, choreographer Dr. Guha has received the Best Dancer Award, by Lions International. As humble as he is, Guru Tushar Guha is distinctive in that he imparts his art to his students at Nrityanjali, free of cost, without expecting any monetary returns.

He says "During my time, a male dancer was looked down upon. But I loved dance, worshipped the art form and against all odds I pursued it. When I look back I feel that if I had succumbed to the pressures then I could never have done the work I am doing today. It is important to continue with the work you love with dedication. Money is only consequential."

Tushar ji is a multidimensional person. While being an artiste he is also a Counsellor to numerous Corporate Houses, Organizations, Government and private Educational institutions as well as Educational Departments of various states. While pursuing the Arts, Tusharji completed his Masters in Economics. He created history in 2000 when he became the first doctorate in the world in Personality Development, USA having written on "Utilising the elements of Performing Arts & Psychology in Day to Day Life".

Guha ji says, "It is difficult for people to understand how I can be involved with the corporates, education, be a counselor, work with children and also be a performing artiste. Dance has given me so much. It has brought out the best in me and made me possible."