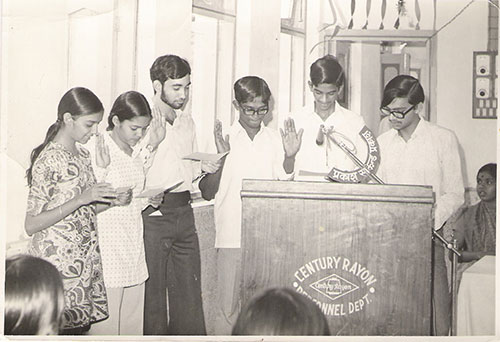 'A journey of thousand miles begins with a single step.' We also did the same. Formed on 19th July 1963, by Dr. Tushar Guha, we began in a very small way, with the twin objective of imparting discipline and promoting our great cultural heritage among the youth.

Nrityanjali's approach was simple and its medium is music, dance and dramatics. Music, dance and dramatics have a universal appeal and it is through these performing art forms that Nrityanjali started its journey, striving to reach its goal of social service.

We have progressed over the years culminating into the present day - Nrityanjali - extending our activities in various dimensions. Nrityanjali is now a registered public charitable trust.

19th July, 1963, Cenray Children's Club was formed by 15 year old Tushar Guha at Century Rayon Colony, Shahad, Kalyan where 200 children gathered and had a game function. The members were the colony children. Mrs. Susy Jacob and Mrs Janaki Nandkumar were the First President and Vice President respectively with Tushar Guha as the secretary. A constitution was drawn up keeping in mind the future growth by Tushar Guha.

In November 1964, the first cultural programme was held. The club had by then a strength of 400. Century Rayon management gave a grant of Rs. 50/- per month.
Since then every year the cultural programme became the annual feature. By 1966 every summer had the sports week followed by Anand Mela. The sports week not only covered athletics but competitions in Recitation, Story Telling, Elocution, Drawing, Fancy Dress, Singing and Dance. The club members were divided into four Houses - Red, Blue, Green and Yellow. The club was now christened as Cenray Junior Club.

In 1968, the club was named as Cenray Youth Club with a President, Vice President, Chairman and Secretary in the key posts. The activities included Book Bank, Library, Gardening, Eye camps, Cleanliness Drive in addition to the cultural & sports week events.

Dance Dramas, Skits and Folk Dances remained the highlights. Children were trained in compere, oratary and handicrafts. Eminent personalities like Smt. Lalita Shastri, Smt. Nutan, Smt. Tanuja, Shri Madhav Mantri, Shri Sunil Gavaskar, Shri Eknath Solka, High Court Judges etc. graced the functions.

Since 1972 the professional cultural shows began, the first at Tejpal Auditorium with Avartan on the music of Pt. Hariprasad Chaurasia & Pt. Shiv Kumar Sharma.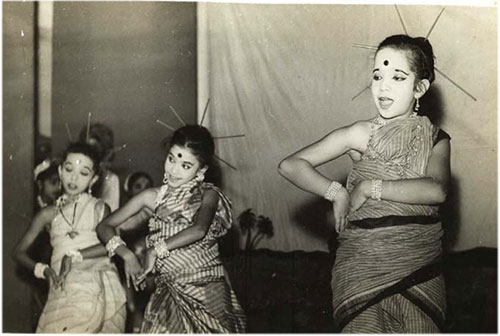 In 1977, the club activities were shifted to Bhandup with the senior members joining hands and named NRITYANJALI - the Institute of Music, Dance, Dramatics and Personality Development.The Constitution was amended and various divisions were set up - Central Administration, Faculty Division, Extra Curricular Division, Programme Division. The focus gradually shifted from youth to include Ladies and Adults and Nrityanjali became a professional but non commercial organisation. Cultural Functions continued but other earlier activities were dormant. New activities of Free training in dance and dramatics in schools & orphanages, Free performances for patients in Hospitals and inmates of Old Homes were taken up.

Since 1978, Nrityanjali SUNDAY CLASSES ( every Sunday 1.30 P.M. to 6 P.M. ) imparted free training in all forms of Performing Arts under Shri Tushar Guha. Sunday Classes eventually became the spirit of Nrityanjali. People from all walks of life from 10 years to 70 years joined as members ( No Fee ) and worked together for social service through the medium of music and dance.The practice continues till date.
In 1980 Door Darshan Mumbai aired Nrityanjali's Rag Ragini Dance Drama in the Hindi Yuva Darshan Programme. The same year Indian History Congress invited us to perform at IIT, Mumbai . Nrityanjali turned a new leaf and the commercial shows began. Since then, till date Nrityanjali is in the forefront as a commercial performing group.

In 1982 the Faculty Division commenced training in Bharatanatyam, Kathak, Sangeet and Instruments with affiliation of ABGMV.

In 1983 Nrityanjali was registered as a Public Charitable Trust.

Since 1983, the Special Personality Development Course (SPDC) as researched by Tushar Guha was taught free of charge as an experiment.

In 1987 - 88 was the Silver Jubilee Year and saw the revival of the Competitions in Dance, Vocal, Speech, Drawing, Fancy Dress and added Hand Writing, General Knowledge - in all 77 Category of events but with a difference - The Inter - school competitions. Smt. Sarla Birla and Shri B.K. Birla graced the Silver Jubilee function at Birla Matoshree Sabha Griha, Mumbai.

The Inter - school competitions, since then has become a salient feature in Nrityanjali's activity which culminates into the Prize Distribution Function with every participant receiving a Certificate of Appreciation and a grand cultural show performed by Nriytanjali Sunday Class artistes.

In 1988, Nrityanjali was invited to perform at Nehru Centre for the Diamond Jubilee celebration of DROCA in the august presence of the Prime Minister Shri Rajiv Gandhi.

By now, Nrityanjali had innumerable creative performances - Folk Dances of India ( 130 from differnt provinces of India ) , Dance Dramas - Buddham Sharanam Gachchami (1967), Kalo Megh (1968), Kalpanalok (1977), Rag Ragini (1980), Parichay (1982), Mukti (1982), Kuhakini (1984), Sagar (1988), Mary Magdelina (1988), Skits - O My Darling (1963), Sher Ki Kahani (1966), Indi Bindi (1967), Dulhan (1987), Football (1987), Plays - Death of Abdul Hamid (1968), Hindustan Ki Kahani Ek Gaon Ki Zibani (1970), Atank (1988), Neta Abhineta (1988).

In 1988, the Nrityanjali Information Service (NIS) was set up to cater to our documentation and since 1990 the Quarterly House Magazine Parichay Mein Parichay is being published to cater to the Literary creativity of the members. Contents of PMP include articles on contemporary topic, poems, cooking, astrology, humour, travel etc. The PMP has its Editorial Board.

From 1992 the SPDC was formalised as a diploma couse with a fee.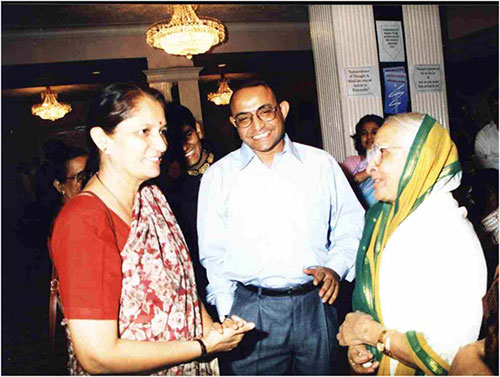 In 1993, CONFEP '93 - the seven days Conference on Fine Arts, Education & Personality Development was organised by Nrityanjali at Ravindra Natya Mandir, Mumbai to draw world attention to Nrityanjali's Personality Development programme with thundering success.

Our Personality Development programme was accepted by the world bank aided district primary education project of govt. of India. Demand for our Personality Development programme spread far and wide with Women's organisations, Spiritual Organisations, Social Organisations like Lion Clubs & Rotary Clubs, Educational Institutions for their teachers and students, Professional organisations like IMA, POSAT, NASSA, Education departments of various Stat Govts. and Corporate houses like SCI Ltd, Century Reyon, Maximaa Systems Ltd. - all holding our workshops and trainings.

Since 1994, on the cultural side Nrityanjali organised Regional Festivals of Music & Dance.

In 1997, on the occasion of the 50th Anniverssary of Indian Independence, Hima Kala Kendra joined hands with Nrityanjali and presented " Reach for the SUN " - a Rs. 6 Lakhs production for three days at Sophia Auditorium. Mumbai.

Due to the demands from the Corporate world for Nrityanjali Management Philosophy based on our Personality Development Course work, the Management Services Division was established in 1998.

In 2000 the work of Shri Tushar Guha on Personality Development received a boostwhen he was conferred Doctorae (USA) on the subject being the first person in the world. The demand from the Corporate world for our training increased and now PSUs, MNCs, Pharma Industries, Manufacturing companies and Proffesional institutions from India and abroad are our valued clients.

In the Faculty Division, Major and many smaller institutions of dance and music affiliated themselves to Nrityanjali.

SPDC now has three batches a year. PDC for children became very popular and schools opted for the PDC as an optional subject. Teachers Training is on full swing. SNDT University introduced our course for their Education Management Post Graduate Couse. The Department of Education Management, University of Mumbai regularly held guest lectures od Dr. Tushar Guha on Transactional Analysis, 3 - I's, Communication Skills.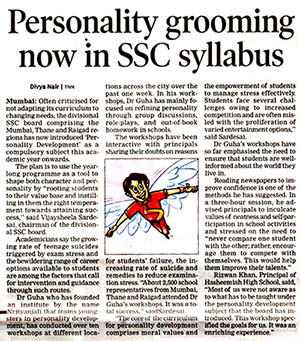 In 2006 the HSC Board, Maharashtra, introduced Personality Development as a compulsory subject for Std. 9th and 10th - a significant achievment of Nrityanjali for championing the cause and organising CONFEP93. Dr. Tushar Guha has been nominated as a member of the syllabus committee of the HSC Board and he conducted training on the subject for 3500 principals of Mumbai, Navi Mumbai, Thane and Raigad Districts. The training on teaching methodology of personality development for teachers of all schools is a regular activity of nrityanjali.

At the Institute, IN - HOUSE training for trainers became a regular feature.

On the performances, Nrityanjali reached great heights with prestigeous performances at Bhuj, Gandhidham, BHEL Jhansi, Chiplun, Kala Ghoda Festival, International Fleet Review, IIT, VLDB, Rotary and Lions Clubs etc.

Nrityanjali Fest - Interschool Competitions took gigantic leap and has four zones with 30584 students from 258 schools participating at the Fest in 2007 covering, Mumbai, navi Mumbai, Thane and Raigad Districts of Maharashtra.

We have progressed over the years, culminating in the present day Nrityanjali, extending our activities to include personality development, education and management services as well.